PRICE FIXING AND ILLEGAL COMPETITION HARM SMALL BUSINESSES and CONSUMERS
Levin Sedran & Berman have established a reputation for excellence in antitrust litigation through our success and leadership in some of the most prominent antitrust cases in the United States.
Extensive experience in large, complex antitrust litigation
We have opposed powerful corporate defendants with nearly unlimited litigation budgets on behalf of small businesses and consumers impacted by actions such as illegal price fixing and violations of international competition laws.
Our firm's antitrust attorneys specialize in litigating cases involving anticompetitive agreements such as price fixing—a practice harmful to both businesses and consumers that results in higher prices for goods or services. Our firm's antitrust practice also emphasizes litigation involving customer and market allocation and bid rigging.
Our antitrust attorneys are often appointed to leadership positions in antitrust cases, owing to our reputation for success and attention to detail in complex litigation. In these leadership positions we help to direct the course of the litigation, collect evidence, develop effective approaches to discovery, obtain expert testimony, all leading to trial or settlement.
Plaintiffs, courts, and our co-counsel appreciate our skill and experience in antitrust litigation:
"Class Counsel and Liaison Counsel demonstrated the skills and effectiveness that come from seasoning and experience in class action litigation, and more particularly in antitrust cases. In this case, the Court observed Class Counsel closely and found them to be well-prepared, knowledgeable, industrious, fair with opposing counsel, and unfailingly candid with the Court. … Plaintiffs' counsel appeared, in all respects, to be a good match with Defendants' various excellent counsel."

– The Honorable Judge Simandle
Our antitrust attorneys further distinguish themselves by their ability to comprehend and use technical information pertinent to the case in the pursuit of a favorable outcome for our clients.
Leadership in Antitrust Lawsuits
Levin Sedran & Berman has often been appointed by courts to lead major antitrust cases. Our record of professionalism and legal expertise has earned us the respect of courts nationwide.
Our firm has taken a leadership role in such major antitrust cases as:
Air Cargo Shipping Services Antitrust Litigation, MDL No. 1775 (E.D.N.Y.): Howard Sedran served as Co-Lead Counsel for a class of direct purchasers of air freight shipping services. Levin Sedran & Berman was involved in all aspects of this 10-year complex litigation that included defendants located around the world and involved complex issues relating to the application of U.S. and foreign law. The total value of settlements with the defendants exceeded $1.25 billion.
Graphite Electrodes Litigation, MDL No. 1244 (E.D. Pa.): Levin Sedran & Berman served as Co-Lead Counsel in this action alleging price-fixing of graphite components used in steel production. We obtained settlements of $133.5 million, representing 100% of actual damages.
Ethylene Propylene Diene Monomer (EPDM) Antitrust Litigation, MDL No. 1542 (D. Conn.): Levin Sedran & Berman served as Co-Lead Counsel in this case alleging global price fixing of the synthetic rubber product known as EPDM. Co-Lead Counsel recovered $99 million through settlements, representing about 90% of estimated damages).
In re Electrical Carbon Products Antitrust Litigation, MDL No. 1514 (D. N.J.): Levin Sedran & Berman served as Co-Lead Counsel alleging international defendants fixed prices charged for electrical carbon products.
National Football League (NFL) Sunday Ticket Litigation (E.D. Pa.): Levin Sedran & Berman served as Co-Lead Counsel in this litigation alleging that the NFL's method of selling a single package of broadcast games violated the antitrust laws.
See a full list of our leadership history
Our record of winning successful settlements while maintaining the respect of our adversaries, outside experts, and the Courts we practice before has made us one of the top antitrust law firms in Philadelphia and in the United States. We are currently ranked as a top antitrust firm by US News & World Report. Additionally, Levin Sedran & Berman received the American Antitrust Institute's (AAI) 2016 award for Outstanding Antitrust Litigation Achievement in Private Law Practice and Levin Sedran & Berman was named by the National Law Journal as a Finalist for its 2016 Elite Trial Lawyer award.
Current Antitrust Litigations
We are currently investigating antitrust litigations involving the following products:
---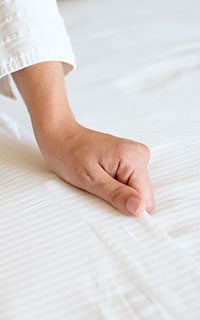 Bed Sheet Thread Count Antitrust Litigation
Thread count is the primary indicator of sheet quality in the linen industry. However, the industry's reputation has come under question as several claims have been filled alleging that bedding sheets manufacturers and/or retailers fraudulently increased the thread counts of sheets to charge their consumers a higher price.
The Antitrust Team at Levin Sedran & Berman
Principal Antitrust Attorneys
Additional Antitrust Attorneys