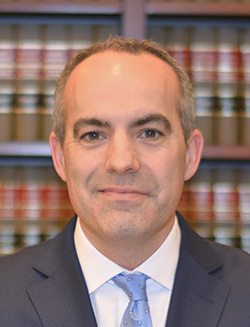 Keith J. Verrier
Born: Warwick, Rhode Island, September 19, 1970
Practice Areas
Antitrust
Education
University of Rhode Island, B.S., 1992
Temple University School of Law, J.D., magna cum laude, 2000
Keith J. Verrier concentrates his practice on complex class action litigation with a focus on antitrust, consumer fraud, environmental contamination and data security breach cases. His clients include large and small businesses as well as individuals seeking compensation for price-fixing, monopolization, and other wrongdoing. He has experience in all aspects of litigation, and has assisted in obtaining significant recoveries in courts throughout the United States. For his work, Mr. Verrier was named a "Rising Star" in 2008 and 2010 and recognized by Super Lawyers as a top attorney in antitrust in 2015, 2016 and 2017.
Mr. Verrier graduated magna cum laude from Temple University School of Law where he was a member of the Law Review. Following law school, he served as a judicial clerk for the Honorable Herbert J. Hutton on the United States District Court for the Eastern District of Pennsylvania. Earlier in his career, Mr. Verrier practiced at a large national law firm where he represented clients in a variety of complex commercial litigation matters and at a nationally-recognized boutique law firm specializing in antitrust class actions.
Throughout his career, Mr. Verrier has been involved in a wide range of diverse and complex litigation. The following are representative of the types of matters in which he has been involved:
In re Air Cargo Shipping Services Antitrust Litigation – Represented a class of shippers alleging international air cargo carriers conspired to fix prices and surcharges. Levin Sedran & Berman served as Co-Lead Counsel. (Over $1.25 billion in settlements).
In re Target Corporation Customer Data Security Breach Litigation – Represented a class of financial institutions seeking to recover costs due to Target Corporation's failure to implement proper data security protocols. Levin Sedran & Berman worked with lead counsel and focused on establishing proper standard of care and calculation of appropriate damages. ($39 million settlement).
In re Automotive Parts Antitrust Litigation – Representing a class of car purchasers seeking damages arising from alleged price-fixing conspiracies as to various automotive parts that are components of new motor vehicles. Levin Sedran & Berman is working with co-lead counsel on briefing and discovery matters. (Over $200 million in settlements to date).
In re Mushroom Direct Purchaser Antitrust Litigation – Defended a cooperative of mushroom growers against allegations of, inter alia, price fixing, supply control and monopolization brought under Sections 1 and 2 of the Sherman Act.
Johnson Matthey, Inc. v. Research Corp. – Represented one of the world's largest fabricators and distributors of platinum group metals involving complex pharmaceutical development and licensing issues.
Chester County Hospital v. Independence Blue Cross, et al. – Represented a community hospital in an antitrust matter involving the largest health maintenance organization (HMO) in the country.
Commonwealth of Pennsylvania; State of New Jersey; United States Court of Appeals for the Third Circuit; United States District Court for the Eastern District of Pennsylvania; United States District Court for the District of New Jersey
American Bar Association, Antitrust Section