Chinese Drywall Lawsuit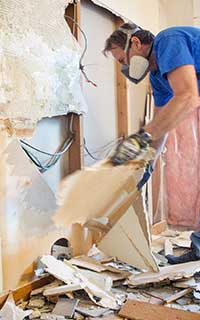 Drywall was imported from China from 2004 to 2008 because the domestic wallboard industry could not meet the demands of the housing market boom and substantial rebuilding efforts following the destructive hurricanes in 2004 and 2005. The imported Chinese drywall releases sulfuric gases that corrode metal appliances and components in homes. Residents of these homes also complain that the gases result in headaches, respiratory and skin ailments.
Toxic Chinese Drywall Background
Following extensive reconstruction after two destructive Hurricanes Rita and Katrina, and the housing boom of 2004-2007, the U.S. experienced a shortage of available drywall materials. To supply the exponentially growing demand for building materials, builders had to import millions of square feet of drywall from China, later known to contain toxic chemicals.
Builders imported Chinese drywall manufactured by many different companies, including Taishan Gypsum Co., Knauf Plasterboard Tianjin (KPT), and Knauf Gips. The drywall is estimated to be installed in approximately 100,000 homes across the U.S., with the Southern States being affected the most.
Typically, drywall is made of gypsum, a non-toxic safe mineral, and does not have any odor. However, when samples of Chinese drywall were tested by the Lawrence Berkeley National Laboratory in Berkeley, California, it found high levels of hydrogen sulfide, as well as many other harmful chemicals that cause foul odors, corrode metal and cause several health problems.
In 2013, the President signed into law the Drywall Safety Act of 2012, setting sulfur content limits for domestic and imported drywall.
Toxic Gases from Chinese Drywall
Several studies and tests have shown that Chinese drywall emits toxic hydrogen sulfide along with other chemicals into thousands of U.S. homes. When released into the air, hydrogen sulfide causes rotten eggs smell, corrodes metal appliances and home components, and may lead to respiratory problems when inhaled.
The highest amount of toxicity is released when chemicals found in Chinese drywall are exposed to hot and humid conditions, heavily affecting thousands of Southern home-owners.
Because of the dangerous chemicals, all toxic Chinese drywall needs to be removed and replaced, as well as all home metal items that were corroded because of the Chinese drywall off-gassing.
If you are living in a home containing Chinese drywall, you may be entitled to compensation for exposure to toxic chemicals and/or loss of value in your home. Contact us today for a legal consultation. There is no cost unless we collect compensation on your behalf.
Call Us To Speak With a Trusted Lawyer
Corrosion of household items, such as:
Copper pipes and wires throughout the home
Electrical wiring
Metal parts inside the home appliances
Silverware and jewelry, causing them to blacken
Health related problems:
Headaches
Respiratory problems
Skin irritation
Nasal congestions and nosebleeds
Chinese Drywall Lawsuit Settlements
How to File a Chinese Drywall Lawsuit?
If your home was built was built or remodeled between late 2004 and early 2008, you or your family may have been exposed to toxic off-gassing caused by Chinese drywall. If you have experienced any symptoms of Chinese drywall exposure, have been forced to leave your home or been delayed in moving into your home, you may be entitled to compensation.
Our attorneys can help you determine if your home contains toxic Chinese drywall. Claims are time sensitive, and there is no cost unless we collect compensation on your behalf. Contact us now for a free, no obligation consolation.
If you are living in a home containing Chinese drywall, you may be entitled to compensation for exposure to toxic chemicals and/or loss of value in your home. Contact us today for a legal consultation. There is no cost unless we collect compensation on your behalf.

Chinese Drywall Lawsuit Information